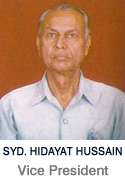 Maulana Azad Institute of Humanities, Science & Technology at Mahmudabad is the brain child of Dr. S.M. Ammar Rizvi, a former principal of Shia P.G. Degree College, Lucknow, a Minister of Education in U.P. Govt. and an eminent educationist with the sole objective of promoting cause of education in this educationally backward area which had only one Inter College named as Colvin College, Mahmudabad. Dr. Rizvi as education minister has established Fakhruddin Ali Ahmed Degree College at Mahmudabad and, also Jawahar Lal Nehru Regional Polytechnic at Mahmudabad and many other institutions all over the state.
Maulana Azad Institute has shown tremendous progress in a short spell of time and is progressing day by day by adding more faculties of learning. Not only students belonging to Mahmudabad or around but students of nearby district are attracted towards this temple of learning. The magnificent building, well equipped laboratories and a huge multi-purpose hall has become a source of attraction for a visitor from a nearby areas.
The results of examinations conducted by C.S.J.M. University, Kanpur speak themselve about the quality of education imparted. I wish the trend may continue in coming years and students may get benefiting placement in life.